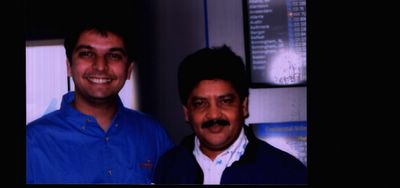 Udit
Narayan wass on a US tour in June. After finishing his last leg of performances in Houston,
Udit
was supposed to take the flight back to Mumbai from the New York Airport. While he was coming in from Houston, his wife and son (who chose to vacation in FLorida) were coming down in another flight from Florida....
Udit
now had the mammoth task of trying to gather all the luggage and board the Air India from terminal B....The humongous peice of a land that the airport is,
Udit
was clearly clueless....
....Till he approached, a young indian man walking on the concourse with a coffee in his hand....His name was Vikram Desai. Vikram was visiting his office branch at the airport.
Udit
asked for help, Vikram obliged...:)
Udit
couldnt beleive his luck..Vikram spent an hour with him, talking about everything from Karan Johar to Kumar Sanu....
After VIkram took him through the whole ordeal in a smooth fashion, Vikram and
Udit
exchanged business cards...
Udit
asked Vikram, if he could call him the next time he is in the US....
Udit
then asked for a picture with Vikram......Viks obliged ;)